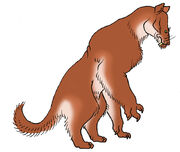 The Beast Of Marysville is a chalicothere-like, werewolf-like, carnivorous mammal cryptid that is said to be living in and around Marysville, California. The only evidence some hikers and other explorers have are fur samples, footprints, photographs, and some bones.
In the year 1873, some people had started to report creatures that were about 7 to 8 feet tall, looking like half bears and half wolves. They were reported to have killed and fed on fish, reptiles, smaller mammals, deer, goat, and sometimes dogs, cats, and humans. Ever since these sightings, recent sighting have also occured. Could such creature exist?
Killed In Lost Tapes
Edit
Ad blocker interference detected!
Wikia is a free-to-use site that makes money from advertising. We have a modified experience for viewers using ad blockers

Wikia is not accessible if you've made further modifications. Remove the custom ad blocker rule(s) and the page will load as expected.