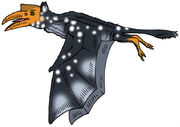 The sky stalker is a bird-like, bat-like, pterosaur-like, carnivorous cryptid that is said to terrorize California, Nevada, and Arizona. They are said to have killed and eaten reptiles, native birds, most native mammals (except elk, moose, bears, or bison), cattle, sheep, goats, pigs, dogs, cats, and sometimes humans. The only evidence we got are fur/feather samples, footprints, photographs, and droppings.
Deaths In Lost Tapes
Edit
A cameraman
A stray dog
A mule deer
Julie Sanderson
Foster Mogery
Kevin Steven
Ad blocker interference detected!
Wikia is a free-to-use site that makes money from advertising. We have a modified experience for viewers using ad blockers

Wikia is not accessible if you've made further modifications. Remove the custom ad blocker rule(s) and the page will load as expected.